(1)
Walters Outdoor
,
/
Rivage collection
Rivage
Rivage
Rivage Dining Chair
SKU 3201
CONFIGURE:
All Weather Flat Resin: Champagne 6mm (RP28)
Flat Resin - White (7mm)
Flat Resin - Vanilla (7mm)
Flat Resin - Champagne (6mm)
Flat Resin - Silver Grey (7mm)
Flat Resin - Charcoal Grey (7mm)
Flat Resin - Pistachio (7mm)
Twisted Resin - Dark Roast (4mm)
Flat Resin - Bronze (7mm)
Product Specs

Product Info

Frame available in Walters Exterior Standard Aluminum and Resin Weave offering.
Cushion set is available in all Sunbrella fabrics or COM.
Furniture Cover is available upon request.

Downloads

Shippings & Returns

Non-Upholstery Items deliver in 1-2 Weeks.
Items requiring upholstery deliver in 3-4 Weeks.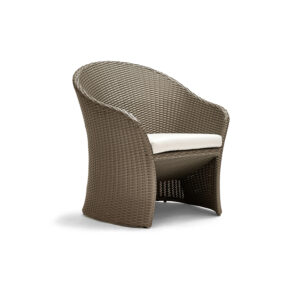 Add item to My Portfolio
Remove
Read more
Rivage by Thayer Hopkins & Ellen Rothstein
Walters Outdoor
The Rivage Collection was inspired by the geometries of curved hyperbolic paraboloid forms that are found in nature and in man-made architecture. We sought inspiration in the sublime shapes of calla lilies, the buildings of Antonio Gaudi and Frank Gehry, and the tensile fabric structures of Frei Otto. This unique collection is hand-woven with resin fiber, which is well-suited for indoor and outdoor use. The curvilinear forms of this collection are generated by straight lines of fiber that are a pure expression of mathematics, aesthetics, the material and the craft of the artisans who weave each unique piece.
Suggested Options
All Weather Flat Resin: Champagne 6mm (RP28)